The Plains

---

Informazioni protette con certificato SSL 128 bit
booking engine by

The Plains is set amidst a mountain range, synonymous of the Ambewela backdrop; it is contained within the vast expanse of a 30 acre estate. This modern-green bungalow is a place of solitude nestled high up on the mountain tops.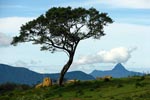 While seamlessly blending in with the surrounding picturesque landscape, boasting a rich assortment of lush green flora and fauna, the stage and the atmosphere is delicately set, to enjoy many a relaxing holiday.
The Plains is located in the Nuwara Eliya district, roughly about 6km away from the town of Nuwara Eliya, also referred to as 'Little England' locally, due to the contrast in terrain and weather evident here, in comparison to the rest of this scenic island. Perched 6182 ft. above sea level, and 138 km from the Bandaranaike International Airport (168km from Colombo), the bungalow is within close proximity to the UNESCO declared world heritage site, Horton Plains.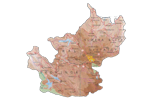 The Plains has embraced the green concept wholly, in its manner of operations. Beautiful gardens comprising of flowers, spices, herbs, tropical fruits, vegetables, and tea, abound, and are within the immediate grasp of our guests. Eco-friendly methods were utilized in the construction of The Plains, and it continues to sustain itself by adopting various initiatives; electricity is generated via wind turbine and solar power, and the recycling of both wet and solid waste takes place, while placing the least impact on nature possible. The idyllic setting provides the perfect destination for nature lovers. One can enjoy an unrestrained stroll through the strawberry orchards, or the fresh vegetable beds, while taking in the breathtaking beauty afforded by the wonders of nature that simply thrive here.
A guest may savour the scrumptious and appetizing range of hearty meals prepared in a homely manner, along with a variety of chutney, pickles, and other condiments using only the freshest fruits and vegetables found in the nursery; or taste the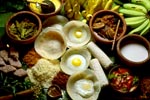 purity of a fresh glass of milk. Our chef is well versed in the art of our island's cuisine and the inherent mix of traditional spices that most associate local food with. They are just as adept in preparing Western based dishes of your choice.
We have not obtained the required liquor license as yet, and we kindly request out guests to carry with them their alcohol and liquor requirements without inhibition (the airport-duty free is recommended for the lowest prices), as a corkage fee will not be charged by us. We will gladly store and chill your wine, and concoct cocktails with your spirits on request.